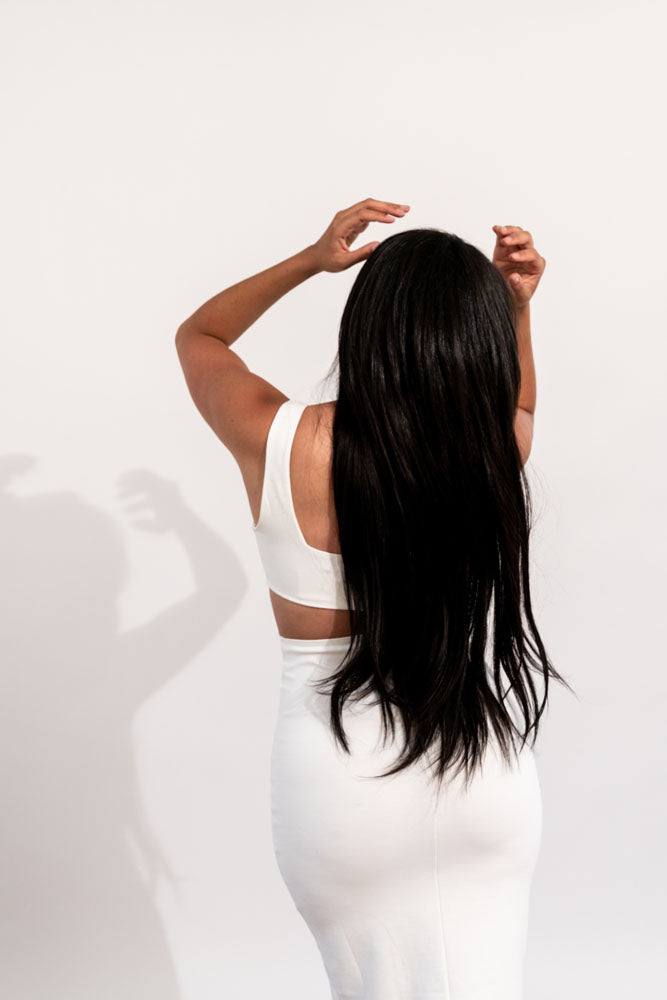 Aftercare
Hair extensions are a luxury! Extend the life of your hair and keep your new hair looking premium with our tailored guide of care and maintenance.
The Washing basics
Step 1: Before jumping in the shower use your Laced wet brush or extension-safe brush to detangle.
Step 2: After you wet your hair, create shampoo suds by rubbing your hands together before applying and start at your scalp.
Step 3: Take extra care to wash between rows and in any areas product was applied. Feel free to repeat this step!
Step 4: Avoid using shampoo on the mids and ends of your extensions.
Step 5: Apply conditioner from the mid-lengths of your hair to the ends. (Avoid applying conditioner at the root, as this may cause extensions to slip.) Let site 3-5 minutes and rinse!
Pro tip: Add in a deep conditioner to your rotation to keep your hair ultra-silky!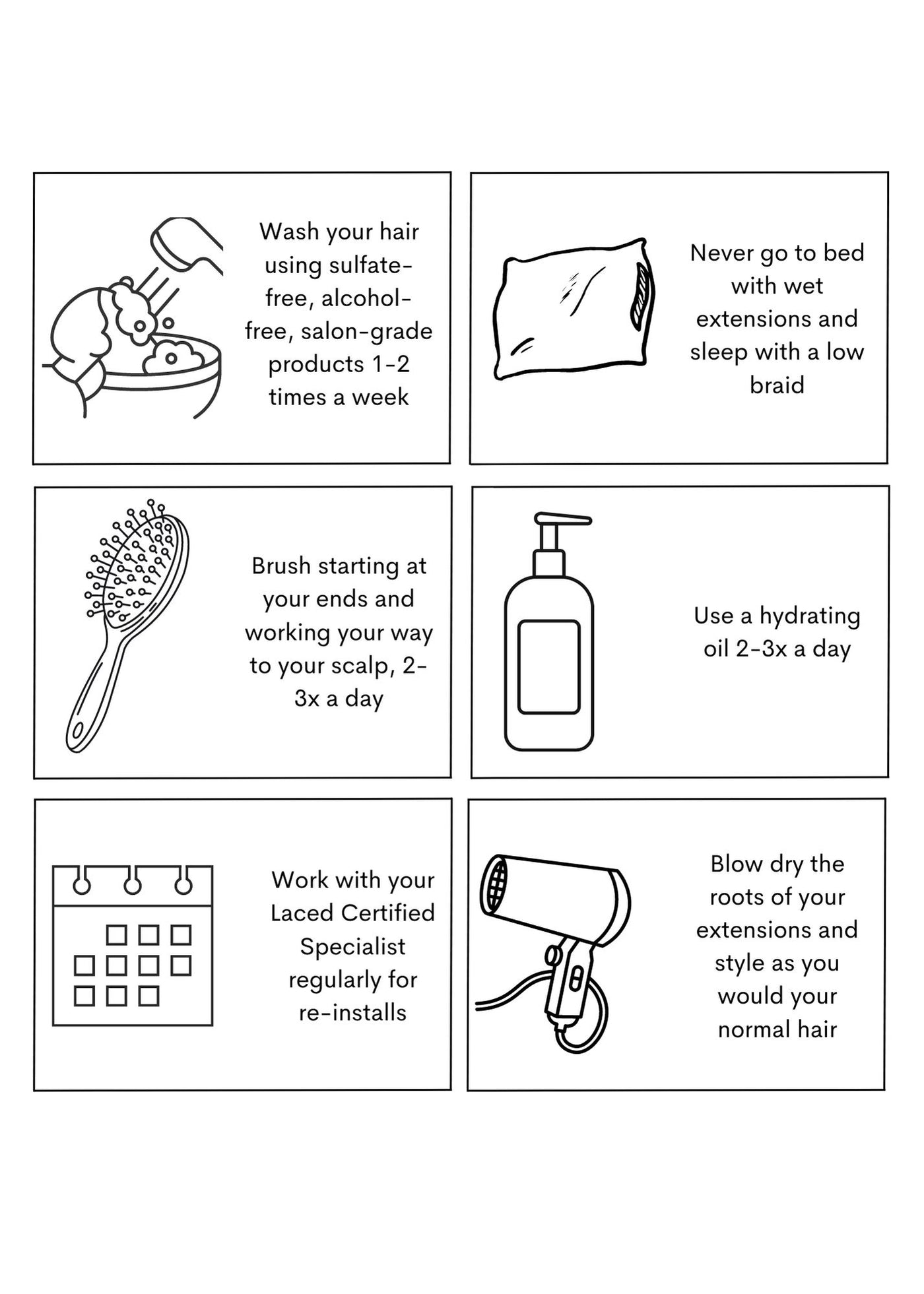 Styling Tips
Step 1: To start—gently towel dry hair.
Step 2: Use a moisturizing leave-in conditioner and extension-safe brush to detangle.
Step 3: Before blow drying, apply a professional heat protectant.
Step 4: Style your hair as normal. Avoid high heat and keep your flat iron or curling irons under 360 °F .
Consider air drying your hair occasionally but always blow dry dry the roots of your hair to avoid swelling of wefts.
Looking for more inspo on how to style, wash and care for your extensions? Head to our youtube channel and get all the pro tips.
Watch on Youtube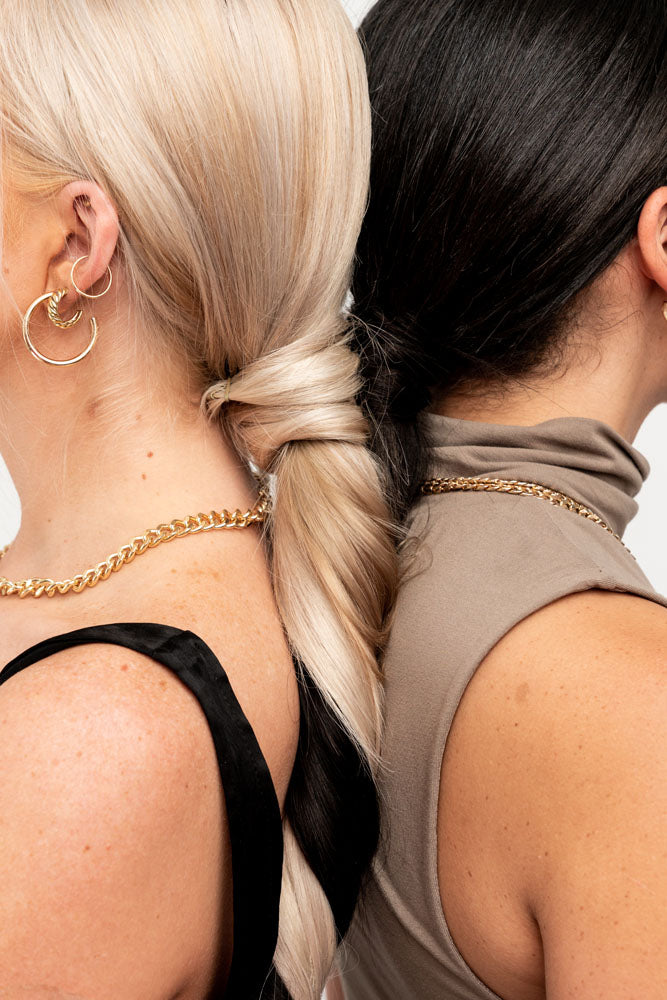 Care and Maintenance
What's the best way to sleep with hair extensions?
Loosely braid your hair before bed and fasten with a satin scrunchy. Sleep on a satin pillowcase and never sleep with wet hair.
Can I swim with hair extensions?
Yes! To maintain the integrity of your hair it is ultra important to keep your extensions hydrated. Apply a leave-in conditioner to extensions before swimming and wash with a clarifying shampoo as soon as possible.
Warnings:
Some minerals found in bodies of water may react with your extensions and can lead to discolorations.
Some sunscreens and self tanners can also lead to a change in color.
Avoid the following ingredients: active ingredients avobenzone, octinoxate and oxybenzone.
Click for More FAQ's
Waved Care Tips
Styling and drying our waved extensions requires a little extra moisture and care. Upgrade your aftercare routine with these Laced Waved hair extension tips.
1. After straightening hair, re-wet or wash as directed above.
2. Apply a moisturizing leave-in treatment to wet hair.
3. Consider using anti-frizz heat protectant working through ends of hair.
4. Using a diffuser, dry hair on low to medium heat.